Matthew Graham Wins British Championship
Formula Fast graduate Matthew Graham was yesterday crowned British Champion, after a dominating performance in the final round of the Junior TKM Super One championship at PF International in Lincolnshire.
Matthew first cut his teeth at Formula Fast Banbury as a cadet driver, and after experiencing his first taste of speed soon became a regular face at weekly Race Club sessions and the Formula Fast Cadet Championship.
It wasn't long before Matthew progressed to something even quicker, and under the guidance of founder Phil Charles, started his MSA karting career in Comer Cadets in 2011 with the Formula Fast Race Team.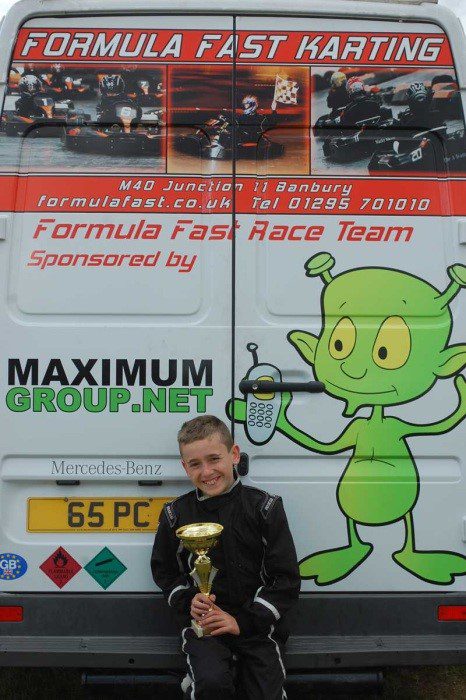 Matthew in his Cadet karting days at Formula Fast, 2011
Phil Charles is currently the Chief Race Engineer for Scuderia Toro Rosso F1 team, and – as well as helping Matthew on his way to success in his early karting years – now presides over F1's latest exciting rookies Max Verstappen and Carlos Sainz.
With this wealth of technical expertise within the race team, Matthew was quickly able to became one of the fastest young drivers in his category during 2011, despite his relative inexperience outdoors.
Commenting on Matthew's win from STR headquarters in Faenza, Italy yesterday, Charles said:
"I'm really pleased to hear that Matt took his first British title. He showed a lot of promise in his novice days with the Formula Fast team, and was definitely never short of speed."
"He's clearly been putting in a lot of hard work since and that has translated into a top result which he should be proud of. I'm sure it's the first of many and I look forward to seeing Matt progress through the ranks."
This season's racing has seen Matthew compete in the Junior TKM Super One Championship for the Jade Race Team. Junior TKM is one of the most popular karting classes in the UK, with Jenson Button, Lewis Hamilton, Gary Paffett and Anthony Davidson all racing in TKM on their way to motorsport stardom.
There is no shortage of talented competition in the class, which makes Matthew's victory all the more sweet, not least due to the fact that he entered the final round of the 2015 series trailing the championship leader by 2 points.
With a 1st and 2nd place finish in the qualifying heats, Matthew secured pole for the final races of the season and led both to victory, winning the championship by a clear margin as the chequered flag dropped.
A big well done to Matt from the Formula Fast team, we look forward to watching you race again next year!